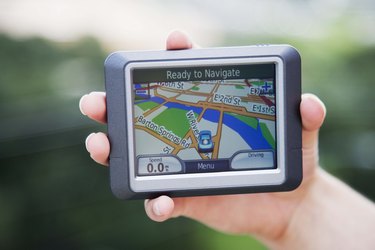 The Garmin Nuvi GPS devices uses a voice to provide directions. Some Nuvi units also can play audio files such as MP3s stored on a memory card. Without sound, the Nuvi lacks functionality. There are several reasons why the sound may not be working. There may be a problem with the volume level, the mute may be left on, the voice providing the directions may be faulty, or there may be a problem with the hard disk.
Step 1
Turn the volume up. Turn on the Garmin Nuvi. Tap the "Volume" button on the "Where to?" or home screen. Move the slider for the volume up.
Step 2
Unmute the Garmin Nuvi. Tap the "Volume" icon again. Uncheck the "Mute" option, if it is currently checked.
Step 3
Make sure the voice is not faulty. The navigation instructions are provided by a voice.To verify whether or not the present voice is faulty, you must switch the voice. Power on the Nuvi and tap the "Tool" icon. Tap "Settings" in the Tool menu. Tap the "Language" option and tap the language you want. Then select another voice to use. Now go back to the home screen and enter an address into the "Where to?" option. See if you can hear sound now.
Step 4
Update the Garmin Nuvi with WebUpdater. Download and install WebUpdater from the Garmin website (see Resources). Launch WebUpdater on the computer, and connect the Nuvi to the computer with the USB cable. The software will detect the Nuvi and locate all updates for the device. Confirm that you want to update the device when prompted and WebUpdater will download the updates to the Nuvi.
Step 5
Reset the Garmin Nuvi. A master reset will restore the Nuvi to its factory configurations and delete all favorites and waypoints that have been added. Power off the Nuvi and unplug it from any power source. Hold your finger down on the bottom right corner of the Nuvi screen, at the same time power the device back on. When asked "Do you really want to erase all user data?," remove your finger from the bottom corner of the screen and tap "Yes." The device will reset and sound should be restored.