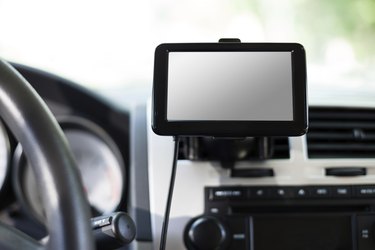 Your Garmin GPS device can be a powerful tool when you're driving through uncharted territory, but the device won't be much help if you can't get it to power on. In most cases a hard reset can resolve whatever software problem the device is experiencing, but some Garmin units shipped with a known issue that prevents them from booting after a software update. Clearing out software bugs will allow your device to boot cleanly.
Perform a Hard Reset (Nuvi 30, 40, or 50 Series)
Step 1
Disconnect your Garmin GPS device from its power source.
Step 2
Press and hold the lower right-hand corner of the touchscreen. Turn on the GPS device while keeping your finger on the display.
Step 3
Wait for the "Erase all data?" prompt. Select "Yes."
Step 4
Follow the onscreen prompts when your device reboots. This should clear any software issues preventing a boot.
Fix the Software (Nuvi 30, 40, or 50 Series)
Step 1
Download and install Garmin's USB driver for Windows (link in Resources). There is a known issue with the Nuvi 30, 40, and 50 series that may cause a failure to boot.
Step 2
Download the Recovery Application and appropriate recovery file for your specific Garmin device (link in Resources). Save these items somewhere convenient.
Step 3
Drag and drop the RGN file on top of the Updater.exe portion of the Recovery Application. This will launch the Recovery Application with the appropriate repair files.
Step 4
Touch and hold the upper left-hand corner of the Garmin touchscreen. Connect the Garmin device to your computer with a mini USB cable while still touching the corner of the screen.
Step 5
Locate your device in the Recovery Application. It should be listed in the "USB Device" drop-down menu.
Step 6
Click the button next to "USB Device" and then click "OK." Release your finger from the touchscreen.
Step 7
Wait while the Nuvi updates its software. Select "No" if prompted to install old software.
Step 8
Disconnect the Garmin device from your computer. Reconnect it to your vehicle and it should power on correctly.