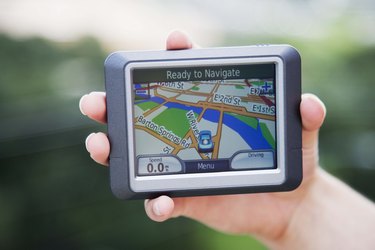 The Garmin Nuvi line of global positioning systems incorporates a personal identification number (PIN) anti-theft system. The PIN is designed to keep unauthorized persons from using the device. However, if the PIN is forgotten, it will need to be reset before the GPS can be used again. The PIN should also be reset from time to time to enhance security.
Step 1
Power on the Garmin Nuvi GPS. Enter the PIN if you remember it. If not, raise the GPS antenna so the unit can acquire a satellite signal and drive to the security location you programmed when you first setup the device. Driving to the security location will unlock the GPS in the event that you do not remember your PIN.
Step 2
Push the icon for "Settings" on the touch screen and then select the "System" menu.
Step 3
Push the restore button, which is located at or near the bottom of the "System" menu. Confirm your selection by pushing "OK" when asked.
Step 4
Push the touchscreen option for "Garmin Lock" once the system has rebooted. Confirm your selection by pressing "OK."
Step 5
Enter your new PIN. You will have to enter it twice, making sure that the second entry matches the first. After entering and confirming your PIN a second time, touch "YES" to confirm that you wish to make this your new PIN.
Step 6
Reset the security location when prompted by touching "OK." Drive to the security location of your choice and lock it into memory by touching the "Set" button. Your PIN has now been reset.