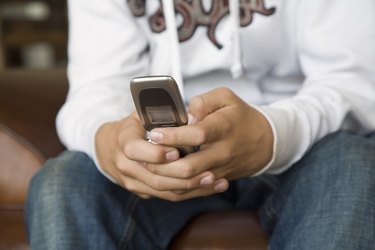 MetroPCS is a no-contract wireless phone company that offers affordable plans for subscribers. Like other services, the plan includes access to a voice mail system. If you feel that the privacy of your voice mail password has been compromised, change it immediately. To reset your MetroPCS voice mail password without calling a customer service representative, call into the voice mail service from your handset.
Step 1
Dial "611" from your handset to access your myMetro phone-based system, which displays on your phone's screen.
Step 2
Press "Option 3" for "myMetro Settings," then press "Option 3" once more to access the "Reset Voice Mail PIN" option.
Step 3
Enter your current voice mail PIN when prompted for verification to proceed.
Step 4
Confirm you want to change your voice mail PIN by selecting the "Yes, Reset PIN" option. The system generates a new temporary PIN automatically. Write down the number and end the connection to myMetro.
Step 5
Press and hold the "1" key to access your voice mail system. Enter the temporary password when prompted, then choose a new voice mail password to use from this point forward. Confirm the new password, and continue to access your voice mail system or end the call.