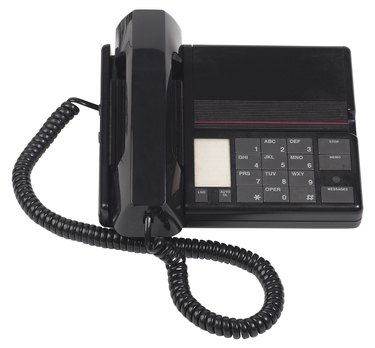 When using the programmable voice mail options on your VTech telephone system, you must already subscribe to voice mail service from your local telephone provider. Your telephone company will provide you with an access number and password (or directions on how to set up a password) to check your messages. Once you have this necessary information, you can program the VTech phone system's shortcut keys to allow for one-touch access to your voice mail system.
Step 1
Press the "Menu/Select" button.
Step 2
Use the up or down arrows to navigate to the "Voicemail Setup" option and press "Menu/Select."
Step 3
Navigate to the "Access Number" option and press "Menu/Select."
Step 4
Use the number pad to enter your voice mail access telephone number provided by your telephone company. Use the "Mute/Remove" button to delete any numbers entered by mistake.
Step 5
Press "Menu/Select" to hear the confirmation code.
Step 6
Program the "Password," "Play," "Erase," and "Skip" options following the above steps, substituting the "Access Number" option in step three with the option you desire to program.
Step 7
Dial your voice mail by using the "Voicemail" button on the telephone.
Step 8
Listen and follow the prompts provided by your telephone company to set up your voice mail's greeting.
Step 9
Use the "Voicemail" button any time you wish to dial into the system to listen to voice mail. Use the programmed "Play," "Skip," and "Erase" options to navigate through your messages.
Things You'll Need
Voice mail service for phone provider

Voice mail access telephone number

Voice mail password
Tip
The words "New Voice Mail" will appear, along with an envelope icon, on your handset display when you have new messages. The voice mail indicator lights on the base and handset will also flash to alert you of new messages.