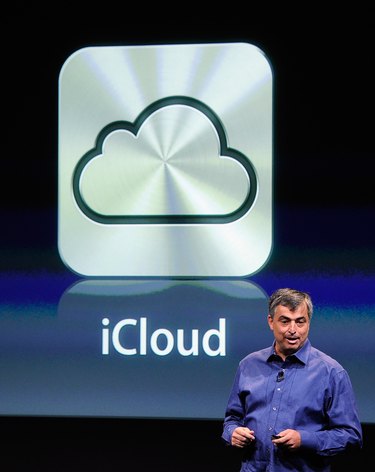 Whether your iPhone was misplaced or stolen, the thought of someone else having access to your business contacts, emails and sensitive documents can cause a great deal of stress. If you enabled Apple's Find My iPhone app on the iPhone, you can track its location using a different iOS device, such as a co-worker's iPhone. After the app tracks the location of the device, you can use one of the available features to play a distinct sound, lock the iPhone or erase all the content to protect your privacy.
Step 1
Launch the Find My iPhone app on your co-worker's iPhone and log in to your iCloud account using your Apple ID and password.
Step 2
Tap the "Devices" button to view the list of iOS devices registered to your iCloud account. Select the name of the iPhone that was lost or stolen. The app searches for the device and displays a map showing its location if the iPhone is turned on and within reach of a Wi-Fi or cellular connection. A pop-up message appears in the middle of the screen.
Step 3
Tap the "right arrow" button next to the pop-up window to view the list of functions included in the app. These include playing a sound to help you locate the phone, locking the device or erasing all content on the phone.
Step 4
Tap the "Play Sound" button to have the device play a sound. If the device was stolen, tap the Lost Mode button and enter a passcode to lock the device and prohibit anyone from using it. To remove all the content on a stolen iPhone, tap "Erase iPhone" and then confirm your decision by tapping the "Erase" button in the confirmation window. After you erase the contents of iPhone, the device can no longer be tracked.
Step 5
Tap the Location button and then tap the car icon to receive driving directions to the location of the iPhone.