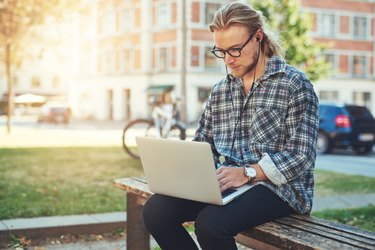 In addition to allowing you to manage your iPod portable media device, Apple's iTunes also allows you to catalog and play the media files on your computer. iTunes can import movie downloads in addition to music downloads, and will play them from within the program. If you have a movie download on your computer that iTunes refuses to play, you can quickly troubleshoot this issue by trying a few things and checking your compatibility.
Step 1
Make sure the movie download is in a file format that iTunes supports. iTunes will only play movie files that are in the M4V or MOV file formats. If you are attempting to play any other type of movie file in iTunes, it simply isn't going to work.
Step 2
Make sure you have the latest version of iTunes. Often, new versions will fix issues that people are having, as well as improve compatibility with certain file formats. To check for updates, click "Help" and then "Check for Updates." Download and install any available updates and restart iTunes to attempt to play your movie download again.
Step 3
Make sure you have the latest version of QuickTime. iTunes uses QuickTime media player to play all of your video files from within the main iTunes program window. Go to Apple.com/QuickTime and click "Download" to install the latest version of QuickTime.