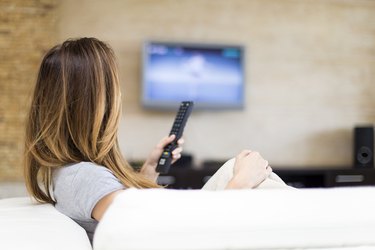 The Sony Bravia line is made up of LCD television sets that display high-definition broadcasts. Sony Bravia high-definition TVs range in size from 22 inches to as large as 70 inches. Before calling Sony's customer support line when you experience a problem, troubleshoot the Sony Bravia TV. If you are unsuccessful, contact support by phone or browse the FAQ section on the Sony website for assistance.
Step 1
Check the power settings and cable hookups if your Sony Bravia television will not operate. The power cord needs to be plugged into a working outlet and all cable connections should be secure. Replace any household fuses, frayed cables or broken connectors as needed.
Step 2
Change the batteries in your remote control if it isn't operating. Also, make sure there is nothing blocking the remote sensors while in use.
Step 3
Select "Auto Program" on your remote if you cannot receive or select channels on your TV. The "Auto Program" function allows you to receive channels that have yet to be stored in the TV's memory.
Step 4
Move the TV away from sources of interference. Excess cable lead, microwaves, cordless telephones and hair dryers can all cause distorted images on a Sony Bravia TV set.
Step 5
Adjust the settings of the Bravia set. For example, press "Display Area" on the TV menu to change the size of the picture displayed on screen. "Wide Mode" can be used for optimal widescreen viewing.
Step 6
Return the Bravia to its factory settings. To do this, turn on the television set. Then simultaneously hold down the up arrow key on the remote and the power button. Release the up arrow key to restore factory settings and erase your saved settings.
Things You'll Need
Remote batteries

Household fuses

Replacement cables