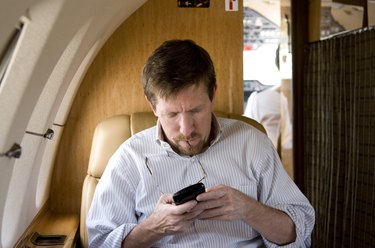 Airplane or Flight mode can help to preserve battery life on your laptop or mobile device, which is handy when you're travelling or don't have a cellular signal. For all its benefits, eventually you're going to want to turn airplane mode off, though. How you go about doing so varies depending on the type of device you're using.
Windows 8.1 Computers
On a computer using Windows 8.1, swipe your mouse pointer to the upper-right corner of your screen and click "Settings." If you're using a touchscreen Windows 8.1 device, swipe in from the right side of your screen and tap "Settings." Click or tap the "Network" icon (a series of vertical bars) and then toggle the Airplane mode option to the Off position.
Mobile Devices
On iOS 8 devices such as the iPhone and iPad, swipe up from the bottom edge of your screen to launch the Control Center. Touch the "Airplane" icon to turn off Airplane mode.
On Android 4.x devices, tap the "Settings" icon to launch the Settings app. Tap the "Flight mode" icon and then toggle the virtual switch to the Off position.
On Windows Phone 8 devices, tap the "Settings" icon on the App list, select "Airplane mode" and tap the switch to toggle it to the Off position.