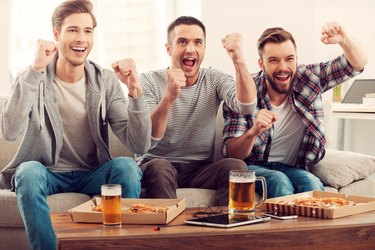 For many of the hearing impaired and deaf, closed captioning is a necessity to enjoy television and film. All modern televisions are built with support for closed captioning, making TV and movies more accessible for everyone. Turning on the closed captioning is generally pretty simple, but the process can vary widely between different television makes and models.
Activating Closed Captions
Every television follows different steps to activate closed captioning. For example, some televisions like the Sharp Aquos series can be activated with a simple press of the "CC" button on the remote. Meanwhile, other televisions like the Sony Bravia require you to activate closed captions from the Settings menu, accessed by pressing the "Menu" button on your remote and selecting "Settings" followed by "Closed Captions." Check your owner's manual for specific instructions for your make and model of television.
Set-Top Boxes and Other Services
Closed captions can also be activated from your cable or satellite set-top box, or through subtitle and caption menus on various video and streaming services. The process differs with each device and service. For example, Time Warner Cable customers can access closed captions by pressing the "Settings" button on their remote, selecting "Quick Settings" and selecting "Closed Captioning." Multi-platform services like Netflix can make things a little trickier, as each device has a slightly different interface and requires different input. For example, when viewing Netflix on your computer, start a video and begin playback, then hover your mouse the screen and select "Dialog" to configure subtitles, captions and audio.