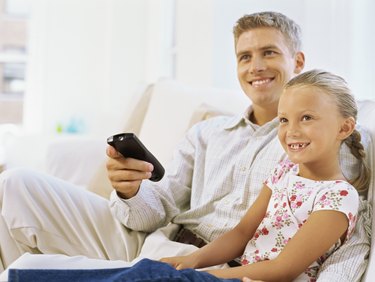 As with many other television sets, the Sharp Aquos TV comes with closed captioning. This service posts the words and sentences spoken during a television program at the bottom of the Aquos TV. While closed captioning can be convenient for the hearing impaired, it can also be extremely irritating if you do not want the service enabled. Fortunately, closed captioning on a Sharp Aquos TV can be manually disabled as quickly as it can be enabled.
Step 1
Turn on the Sharp Aquos TV by pressing the "Power" button either on the Aquos TV or the TV's remote control, while pointing the remote at the TV.
Step 2
Press the "CC" button on the Aquos remote. A "Closed Caption" box appears on the Aquos TV screen.
Step 3
Press the "CC" button once more while the "Closed Caption" box remains on the screen. The different closed caption options for that television appear on the screen.
Step 4
Continue pressing the "CC" button until the "OFF" option is highlighted.
Step 5
Press "ENT" on the Aquos remote. Closed captioning is turned off.