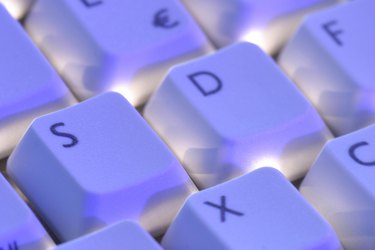 Hewlett Packard has designed some models within its HP Pavilion line of computers with a backlit keyboard to make seeing the keys easier in certain lighting situations. The method for turning on the backlit keyboard feature involves pressing one or more keys on the keyboard. The key or keys that you press varies by HP Pavilion model type. As of September 2010, HP provides two different key command recommendations through its website.
Step 1
Turn on your HP Pavilion computer.
Step 2
Press the key that has the backlit keyboard icon—three dots in a horizontal row with three lines that look like light rays shooting out of the corner of the left dot. The key may not serve any other function or may also double as the "F5" or "F12" key.
Step 3
Push the "Fn" key and hold your finger in that position. While holding the "Fn" key down, push the spacebar.