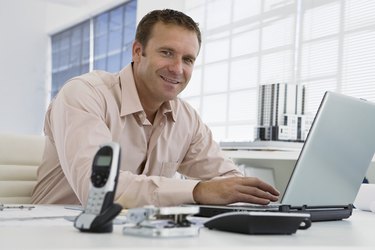 If you use your HP Pavilion laptop in environments with varying levels of light, you might find a screen brightness setting that's perfect for one location is unsuitable for another. There are two ways to adjust the brightness level: a specially-assigned function key and an adjustment from one the Windows Control Panels. Experimentation might help you decide which approach you prefer.
Via Keyboard
Step 1
Examine the row of keys located at the top of your keyboard, also known as the "function" keys. Find the two keys that feature an icon of a sun next to an up or down arrow. These are often the F7 and F8 keys. You will use these keys to incrementally raise or lower the brightness level of your display.
Step 2
Find the "fn" key, commonly in the bottom-left corner of your keyboard to the right of the "Ctrl" key.
Step 3
Hold down the "fn" key while pressing one of the two keys you found in the top row. Adjust the brightness level in this manner until you reach the desired setting.
Via Control Panel
Step 1
Open the "Start" menu and select "Control Panel."
Step 2
Click on "System and Security" and select "Power Options."
Step 3
Locate the slider labeled "Screen Brightness." Click on the slider and drag it to the desired setting.
Tip
The brighter you set your laptop display, the faster you will use up your battery. You can configure your laptop to use different brightness settings depending on whether it is plugged into a power supply or running on battery power. While in "Power Options," navigate to "Select a power plan." Click on "Change plan settings" and make the desired adjustments.
If you are unable to determine which keys to press to adjust the brightness (if the icons are worn away, for example), try "F3" and "F4" or "F7" and "F8."
If you are using an external keyboard with your HP Pavilion laptop, you might be able to emulate the "Fn" key by holding down the "Ctrl" and "Alt" keys located on the left side of the keyboard.
If you are unable to adjust the brightness via Control Panel, check to see that your laptop's drivers are up to date. Go to HP's Customer Care webpage and enter your laptop's model number in the field labeled "Locate your product to get support." Select your laptop from the list of matching products and click on the link labeled "Software and Driver Downloads."