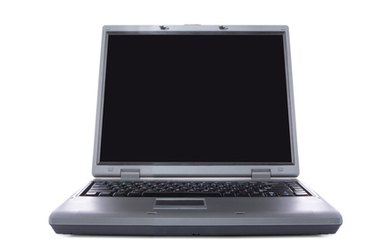 The Toshiba Satellite uses many different "hotkeys," or key combinations that allow you to execute a specific command. These include such things as increasing or decreasing brightness, disabling the touchpad, or connecting to an external display. Unfortunately, there is no hotkey used to completely disable the screen, as many other companies offer (as an example, Acer's is "Fn+F6"). There are still other ways to disable your screen, however, through "tricking" the computer.
Switching to External Display Trick
Step 1
Power on the laptop. Locate the "F" key designated to switch to an external display. It is usually the F5 or F6 key, but it varies from computer to computer. It may have a symbol on it that looks like a monitor.
Step 2
Hold down the "Fn" key, located between the "Ctrl" key and the "Windows" key. While holding it, press the "F" key you found in step one. The monitor should now be off. You may have to tap it a few times to get it to switch over.
Step 3
Press the key combination again to switch back to the main display. Once again, it may take a few taps of the "F5" key to get it switched back.
Screensaver Trick
Step 1
Right-click on the desktop and click "Personalize." In Windows XP, click "Properties."
Step 2
Click "Screensaver," and the click the drop-down list. Select "Blank" as the screensaver, and click "Preview." The screen will now be black.
Step 3
Shake the mouse or press any key to wake the computer up again. If you do not wish to change your default screensaver, click "Cancel" to cancel any changes and close the window.
Tip
You may need to connect a VGA cable to the computer's VGA port in order to get the "switch to external display" trick to work.