Unfriend Someone
The process for removing someone as a friend is the same whether you use the official Facebook app for Android devices or the Facebook mobile website. The appearance of buttons and menu items varies only slightly.
Step 1
Tap the Menu icon at the top of the window to open your Facebook account's main menu.
Step 2
Scroll down and tap Friends to load a list of all your Facebook friends.
Step 3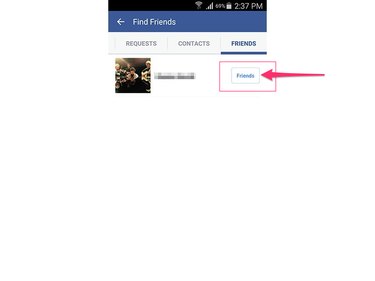 Locate the person you want to unfriend and tap the Friends icon located next to the person's name. If you have a large number of friends, use the Search tool to locate the person you want to remove.
Step 4
Tap Unfriend to remove the selected person as a Facebook friend.
Consequences of Removing Someone as a Friend
When you unfriend someone on Facebook, no notification is sent to the person. However, you are removed from the person's list of friends, so your absence may be noted. If you want to become the person's friend again, you must send a new friend request.
Blocking Friends
You can also block people on Facebook. Blocking someone prevents the person from initiating chats with you, sending you messages, adding you as a friend, or viewing posts you make or share on your Timeline.
To block someone, click the Menu icon in the top corner of the screen, tap Settings and then select Blocking. Enter the name of the person you want to block and then tap Block. Locate the person you want to block and tap Block again.
Just like when you unfriend someone, no notification is sent when you block a person on Facebook.
Reporting Someone to Facebook
If you are being harassed or bullied on Facebook or if you see someone posting inappropriate or abusive content, Facebook encourages you to report that person. For more information on reporting people or content, visit the Report Abuse section of the Facebook Help Center.