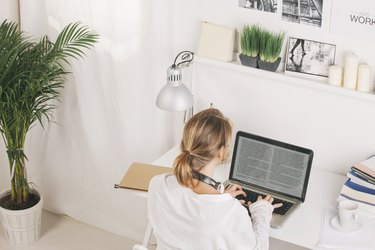 Microsoft offers the Malicious Software Removal Tool as a free download to help Windows users detect and remove specific, well-known security threats such as the Blaster worm and Sasser worm. The tool is an executable program that launches from the downloaded file itself; there is no installation process when using the tool, so a full uninstall process is not required to delete the tool from your PC.
Step 1
Browse your computer for the directory containing the Microsoft Malicious Software Removal Tool, right-click on the tool and select "Delete." It will likely be in your default download folder if you downloaded it from Microsoft. Confirm that you wish to delete the file when prompted.
Step 2
Right-click on the Recycle Bin and choose "Empty Recycle Bin." Confirm that you wish to empty the bin when prompted.
Step 3
Launch the "Search" tool from the Windows charm bar, type "Mrtstub.exe" into the search box, and then press "Enter." If the search discovers a file by this name, go to the file and delete the folder it is in, and all the other files in the folder. If you remove the tool from your computer and later wish to scan your computer with the tool, you can simply download the tool from Microsoft again and then run the tool.