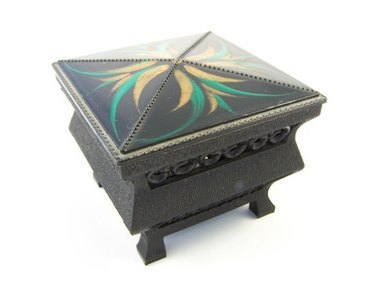 From the affordable, 20-inch TV ideal for children's video games and watching, to the 52-inch or larger widescreen flat panel HDTV for your home theater entertainment, JVC offers something for the whole family in its broad selection of televisions. JVC also provides you with the option to lock television channels so children cannot access TV programs you deem unsuitable for their ages. Unlocking these channels takes only a moment of your time.
JVC 20-Inch Mono TV
Step 1
Press the "Menu" button to set the lock code for your JVC TV. A padlock icon will appear on the menu display.
Step 2
Press "Zero" to access the lock code function then use the left and right arrows to select the four-digit number for your code. Use the up and down arrows to move to the next area of the display.
Step 3
Select the up or down arrow to finish your lock code then use the left or right arrow to save your lock code settings and exit the menu. You can return to this display if you forget your four-digit lock code and set another code.
Step 4
Write your four-digit lock code down and keep it in a safe, private area.
Step 5
Select the locked TV channel you desire to watch or want to unlock. A message will appear on the display requesting you to enter your lock code to unlock the channel.
Step 6
Unlock your JVC TV by entering your lock code on the 10-key pad. The message "Invalid Lock Code!" will appear on the screen if you enter the wrong lock code.
JVC LCD Widescreen HD TV
Step 1
Select "TV" from the menu then select "V-Chip" from the drop-down list on the screen. "Please Input Password" will appear on the screen.
Step 2
Enter your four-digit password by selecting numbers on the 10-pad that appears on the V-Chip menu display or your remote control. Create a new password if you forget it by unplugging your TV power cord from the outlet then reconnect the power cord. This procedure resets your password to "0000." Enter four numbers for your new password using the keypad on the screen or your remote and select the arrow to advance to the next number. Press "OK" on your remote or select "OK" on the screen to set your new password.
Step 3
Unlock a TV rating or TV channel by selecting "MPAA" or "TVPG" from the V-Chip menu. Use the up or down arrows to select the locked rating then select "OK" on the display or press the "OK" button on your remote control to unlock it. The MPAA represents the U.S. Motion Picture Association of America rating system, such as "NC-17," meaning not intended for viewers 17 years or younger. TVPG provides you with the U.S. ratings system settings, such as "TV Y" for all children 2-6 years old.