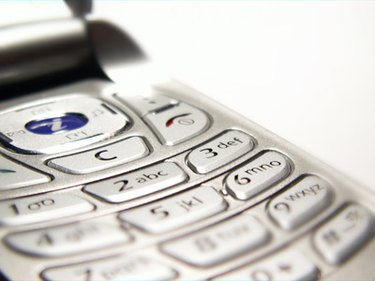 Unmuting a cell phone is a matter of finding the proper "soft key" to press on your phone while you are on a call. Each make and model of cell phone is set up a little bit differently, but the "mute" and "unmute" options will display once the call connects. Unmuting the call allows the person on the other end to hear you.
Step 1
Call a friend or family member. Once the call connects, let the person know you want to test a feature on your phone.
Step 2
Pull the phone away from you and look at the display screen. You should see "Mute" located either on the right- or left-bottom corner of the screen. Press the key directly under the word "Mute," regardless of what the key is actually labeled. The word "Mute" will change to "Unmute."
Step 3
Attempt to speak. If the person cannot hear you, then you successfully muted the call and you need to unmute so you can resume successful communication.
Step 4
Press the key directly below the word "Unmute" one time. Resume communication.
Tip
Phones are set up so the "Mute" option will not successfully work during any 911 call for consumer safety purposes. If you are trying to unmute your cell phone ringer or other audible notifications, adjust the volume by following the appropriate option menus for volume, ringtone and notification settings.
Warning
Do not say anything incriminating or derogatory while you believe you are on a "muted" call, in case you did not perform the function correctly or your phone is faulty and you are unaware.