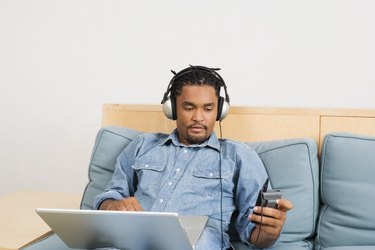 An MP4 file is an audio file type often downloaded from online music stores. MP4 files can carry Digital Rights Management encoding that stops the user from placing the files on certain MP3 players or copying the files between computers. This is done to protect the files from piracy. Removing the protection is a useful way to get the most out of these file types and back them up.
Using a DRM Removal tool
Step 1
Several software options exist to remove DRM encoding (see Resources for links). These include DRM Remover, DRM Buster and DRM Converter. Double-click on the EXE file when the software of your choice downloads and follow the instructions to install the program.
Step 2
Double-click on the icon of the program, if you placed it on your desktop, or go to "Start," then "Programs," and locate the program to open it.
Step 3
Click on the "Add" button, or the "Select Files" button, and use the browser window to locate the MP4 files from which you wish to remove the DRM.
Step 4
Click on the "Convert" button and select an output file type or click on the "Select Output Filetype" if this appears as a separate button.
Step 5
Click "Convert" again to begin the process.