The BlackBerry Web browser is the default browser for all BlackBerry devices. It features tabbed browsing, the ability to pinch and zoom for touch-screen models and an option to automatically adjust the font size for text-heavy websites. The browser is included as a component of the core operating system. Therefore, browser updates are tied to operating system updates and not available as a separate download.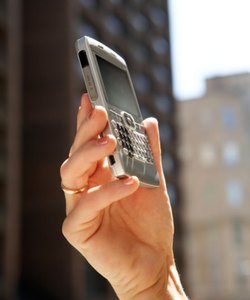 Over the Air Update
Step
Click the "Options" icon on your BlackBerry's home screen. From the menu that appears, click "Advanced Options," "Wireless Update" and then "Next."
Step
Click "Check for Updates" on the "Available Updates" screen. Highlight and click "Update to."
Step
Click "Customize" to review the programs scheduled for backup. Click the check box to add and delete a program from the backup. Click "Save." Click "Next" to submit a request for the update.
Step
Click "Start Download" on the "Ready to Download" screen to download the update.
Step
Click "Update Now" and then click "Update Now" again from the pop-up dialogue box to verify the update. Click "Update Now" to apply the updated software immediately. The device will be unavailable for use during this process.
Step
Click the "OK" button in the "Update Successful" dialogue box. Click "OK" in the "License Agreement" message.
Step
Click "Close" to close the setup wizard. Click "OK" and place a check mark next to "Do not remind me again." Click "Exit."
Updates via Desktop Manager
Step
Double-click the "Desktop Manager" icon to launch the program.
Step
Connect the BlackBerry to a computer with a USB cable. The device will appear in the application window.
Step
Click the "Update my device" button next to the device image. A pop-up window listing the version number of the update appears. Click the "Get update" button located at the bottom right of the window.
Step
Click "Back up device data" in the "Update Options" window. Click "Install Update." A status window appears, allowing you to track the status of the device.
Step
Click "Close" in the "Updating Device Software" once the process is complete.