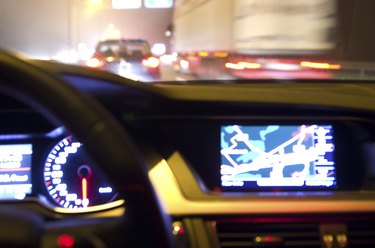 In a rapidly changing world, a GPS device is only as good as its data. As streets and highways change, updated maps are vital to keeping your GPS device useful. Magellan uses a firmware application you install on your computer called Content Manager to manage updates. When you plug a Magellan GPS device into your computer's USB connection, this application communicates with Magellan's servers to check for new updates and install them on your device.
Content Manager
Magellan's most recent devices use Content Manager to keep both software and map data up to date. Content Manager is a program you can download and install for free from Magellan's website. Once installed, Content Manager may alert you to software updates and ask that you download a more current version. Magellan's firmware application acts like a central communication hub between Magellan's servers and your device. In addition to letting you download new maps and content onto your device, it can also be used to back up device information like saved addresses and routes.
Updating Content
To download new data from Content Manager, make sure your Magellan GPS is fully charged, power it off and connect it to a computer running Content Manager with a USB cable. If you have not already done so, Content Manager will ask you to log in and register the device. Then click on "Check for Updates" in the main screen of Content Manager. Content Manager will look for any available updates for your device and allow you to select and install them. The application may also ask you to update your device software before looking for maps, which Content Manager will download from Magellan's servers and install on your device.
What You Get
In addition to free software updates for your device, Content Manager is a clearinghouse for the latest Magellan GPS map updates. Depending on the kind of information updated, map updates can be free or for purchase. When you search for updates, the package description will let you know if the update is free or requires payment. In the case of paid updates, Content Manager will direct you to Magellan's website where you can make a secure payment before downloading the data. Large update packages, such as maps that include new areas or considerable extensions to existing roads and highways, generally require payment. Magellan also offers subscription services for free updates during a specified period of time.
Troubleshooting
While updating a Magellan GPS is very simple, a few common mistakes can lead to data errors. Do not shut down your computer or disconnect your Magellan GPS device while Content Manager is running. After updates are fully downloaded and installed, wait for Content Manager to eject the device and inform you that it is okay to unplug the device. Your GPS will turn off after receiving updated data. Do not turn it on. The device will restart automatically to complete the installation of updated data.