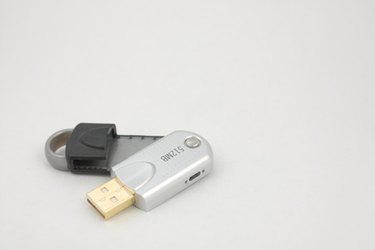 Firmware is a software upgrade used to fix or patch programs and data structures that internally control various electronic devices like computers, game consoles and mobile phones. You can even update the firmware of newer series of Samsung LCD televisions such as the 650 and 750. Updating the firmware on a Samsung TV is very easy and can be done in a few steps.
Step 1
Download the firmware file for your Samsung TV to your computer. At the Samsung download center page (see Resources), enter the model and model of your TV and press the "Find It" button.
Step 2
Press the "Firmware" tab and click on the "exe" icon under "File."
Step 3
Insert a USB flash drive into a available UBS port on your computer. Open up the flash drive and then double-click on the firmware file.
Step 4
Unzip the file to your USB flash drive. Click on the "Browse" button and double-click on the drive letter designated to your USB flash drive. Click on "Unzip."
Step 5
Click on "OK" once the files have been successfully extracted and disconnect the flash drive.
Step 6
Turn on your TV and insert your flash drive into the "USB" port on the TV. Press the "Menu" button to display the menu and then select "Support." Select "Software Upgrade" and press "Enter."
Step 7
Allow your TV to scan for the USB flash drive. Once the television displays "Upgrade version X to version Y?," select "Yes" and press "Enter." When the software upgrade has been completed, the TV will automatically turn off and then back on.
Things You'll Need
Samsung TV

USB flash drive

Firmware update

Internet access