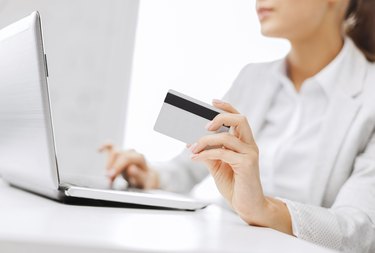 Amazon Prime offers a wide variety of services. While online shopping is a popular feature, services such as two-day shipping, video streaming, music streaming, a photo service, grocery delivery, and additional benefits are available to members for $100 per year, as of publication.
Free Two-Day Shipping
If you shop online, the free two-day shipping offered by Amazon Prime is attractive -- Amazon's standard shipping can take 4 to 5 days. Many items are eligible for two-day, but there are exceptions. For example, an item ordered through Amazon's marketplace section is not eligible for free shipping.
For Prime Members, standard shipping, release date shipping (on qualifying items) and no-rush shipping are also available for free. When Prime Members select no-rush shipping, in exchange they are awarded a credit towards a future purchase because they are opting out of the two-day shipping promise. Two-day shipping is not available to residents of Alaska, Hawaii, or Puerto Rico.
Expedited shipping is available for a reduced cost.
Video Streaming
With Prime Instant Video, you can watch movies and popular TV shows, including original series exclusive to Prime members. Some current movies are also available.
Amazon Prime offers some titles for free, and you can rent movies (for 24 hours) or buy them outright. Prime Instant Video is available on Fire phone, Fire Tablets, Amazon Fire TV, Fire TV Stick, Amazon Echo, iOS devices, Android smartphones and tablets (v.4.0 and above), PC, Mac, and the Amazon.com website. Also, if you have a smart TV or game console with the Amazon Prime app, you can access your videos on those devices.
Prime Music
According to Amazon, Prime Music has over a million songs for members in the U.S. and Puerto Rico, and offers ad-free access to hundreds of Prime Playlists. You can also take your own music and mix it with Prime Music to create a personalized playlist. Looking for a particular album or artist? The search feature allows you to find -- and listen to -- full albums, or a particular song.
You can access Prime Music on compatible devices that support Amazon Music. These include Fire phone, Fire Tablets, Amazon Fire TV, Fire TV Stick, Amazon Echo, iOS devices, Android smartphones and tablets (v.4.0 and above), PC, Mac, and the Amazon.com website. Additionally, new titles are added on a rolling basis.
Prime Photos
If you have a vast library of photos and want some additional security, Prime Photos offers cloud storage for your pictures. Additionally, any videos you might want to upload can be added to Cloud Drive. Prime Photos can be accessed via the Web, a mobile device, or from a desktop application on your computer. Amazon provides unlimited cloud storage for the duration of your Prime membership. If you decide to cancel Prime, you are then be locked into the corresponding storage limit associated with your Amazon account.
Prime Pantry
Although it may not eliminate the need for your routine grocery store trip, Prime Pantry provides an alternative to traditional food shopping. Order food, snacks, beverages, household cleaning products, baby care, pet care products and more. Personal care products, such as hair care items and hand soap can be purchased as well. You can add up to 45 pounds and pay a flat rate of $5.99 delivery fee per Prime pantry box.
Additional Benefits
Amazon Prime also offers discounts for college students. Amazon Student offers free two-day shipping on most items and half off on Amazon Prime membership fee. If you own a Kindle device, you can borrow (or lend books) through Kindle Owners' Lending Library each calendar month. There is a monthly limit, so you can only borrow one book per month, however, no due date is assigned. You can keep the book as long as you're an Amazon Prime member.