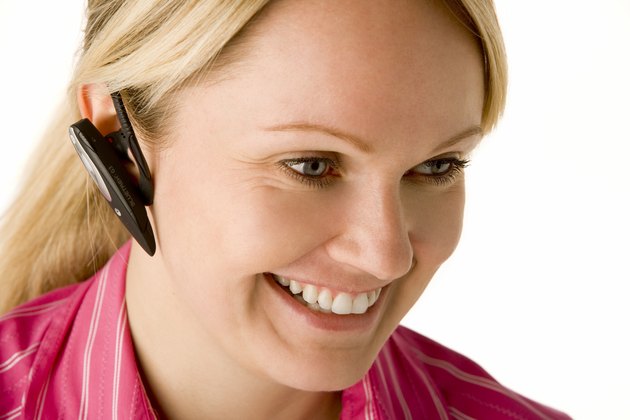 Bluetooth technology is a wireless means of sending and receiving data over short distances with mobile and stationary devices. While it has applications in non-civilian work, such as military and space organizations, Bluetooth can be found on everyday items such as laptops, computers, cellphones and their accessories. These days, the need for a more hands-free alternative to the use of cellular phones is important; not only for ease of use or increased productivity, but for general safety. In some areas, the use of a Bluetooth device while driving has become a law to protect other drivers and the public from accidents.
Step 1
Fully charge your Bluetooth headset according to its instructions. This can take from 1 to 4 hours, depending on the model. This can be done through the included AC adapter, car adapter or USB connector cable to your computer.
Step 2
Unplug your Bluetooth headset from the charger. Hold down on the control button, the large lighted button on the face of the device, until it blinks red and blue. It's now in pairing mode.
Step 3
Turn on your cellphone. Enter the menu screen and navigate to the "Settings" screen. Search for an option labeled "Bluetooth" and select it. You will be prompted if you want to turn Bluetooth connectivity on. Press "Yes."
Step 4
Search for the Bluetooth headset with your phone by going into the Bluetooth options screen and selecting "Search." The headset should appear under a list of found devices, usually called "LG Headset." Select the headset.
Step 5
When prompted for a passkey, enter the numerals "0000" without quotations and press "OK." Your LG headset should now flash blue, indicating that it is paired with your phone.
Tip
If you encounter any problems with your cellphone or headset, consult the troubleshooting guide in their respective manuals. Charge your headset regularly, as a low battery could result in dropped calls or reduced signal strength. Try to keep the distance between your phone and headset as short as possible for maximum signal reliability.
Warning
Adjust the volume on your LG headset immediately if it is too loud. Keeping it at a high volume can damage your ears and impair hearing. It's a good practice to turn off your phone's Bluetooth connectivity when the headset is not in use. Leaving it on can compromise the security of your personal data and contact information.