Excel is a spreadsheet program produced by Microsoft as part of its Microsoft Office software package. One cannot actually use Excel to print labels. However, one can use Excel to manage addresses or other data and then merge that data with Word, which can print labels based on a template. Mail merging simply involves taking information included in the Excel spreadsheet and importing it into the label template laid out in Word.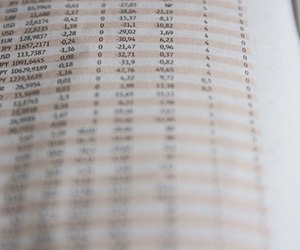 Set up Excel document
Step
Open a new document in Excel.
Step
Title each column with the type of data you will use in your labels. For example, if you plan to print address labels, the first column would be titled "name," the second column would be titled "address," and so on.
Step
Input the data into the appropriate columns in the spreadsheet.
Step
Save and close the Excel document.
Mail merge with Word
Step
Open a new document in Word.
Step
Open the "Tools" menu. Click "Letters and Mailings" and then "Mail Merge Wizard."
Step
Under Document Type in the dialog box, select "Labels."
Step
Select "Label Options" to open the Label Options dialog box. Select "Avery Standard" from the Label Products drop-down menu. Then select "5160 - Address" in the Product Number menu box.
Step
Select "Use an Existing List" under Select Recipients. Click "Browse" and then navigate to the Excel file and click "Open."
Step
Select your table in the "Select Table" dialog box. Check "First row of data contains column headers" then "OK."
Step
Select the column titles from your Excel file that correspond with the Word identifiers in the Mail Merge Recipients dialog box. The labels in Word will use identifiers such as "name" or "address."
Step
Select "Next: Complete the Merge." Save the Word file.
Print labels
Step
Turn on your printer.
Step
Load a sheet of Avery 5160 labels into your printer. Exact methods for doing this will vary by printer model and style.
Step
In Word, open the "File" menu. Click "Print."
Step
Under the "Printer" section of the Print dialog box, select the name of your printer from the Name drop-down menu.
Step
Click "OK."