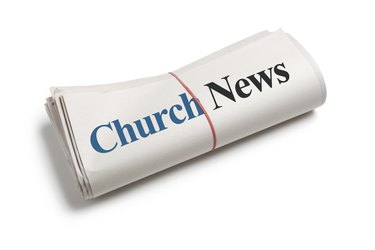 Microsoft Word supports a variety of templates that can help you create unique documents, including church bulletins. After downloading a generic template, you can customize it with images, scriptures and other personal touches to make it fit the style and temperament of your church. You can also download bulletin templates from other sites and customize these in Word to make the fit just right.
Getting Your Bulletin Started
Step 1
Open Microsoft Word and click the "File" tab, then "New." Any existing templates display with a bar to search for templates online. Alternatively, you can download a template from a third-party website -- just make sure it is in a Word format.
Step 2
Type "church bulletin" in the search box provided and press "Enter" or click the magnifying glass icon. You can also type "newsletter" to get different results that may better fit your church.
Step 3
Double-click the template you want to download. As of June 2014, Word had only one church service template available: Church service bulletin (folded). If you plan to use this template more than once, save it with a general title, such as "Church Bulletin Template." Save it a second time with the date of the service.
Step 4
Adjust the titles of the sections to customize the look and feel of your bulletin and type in the proper information for the service itinerary and your church's news and events.
Optional Customization to Your Bulletin
Step 1
Select the image at the top of the bulletin and replace it with a picture of your church, congregation or other relevant image. Change its size by dragging the corners of the image to the size you desire.
Step 2
Crop any borders or edges from your image by clicking the photo itself. Click "Picture Tools," "Format" and then "Size." You can crop the photo by setting its height and width or by dragging its edges inward.
Step 3
Replace the default scripture with the selected readings for your service. Consider taking a small portion of the readings and adding it to a new text box as a quote for your readers. You can add additional text boxes using the "Text Box" icon on the Insert tab.
Step 4
Double-click the header at the top of the first page and add the name of your church, the date of the service and any other information specific to that bulletin. This can include information around celebrations, holidays or the name of a guest speaker.
Step 5
Customize the fonts and colors of your bulletin by using a new Word style found in the Design tab. Styles have their own heading and body text defaults. When you select a new style from the list on the Design tab, Word applies the changes to your entire document.
Step 6
Change the colors of your document to match the season, such as Advent, Easter or Christmas, by clicking the "Colors" icon on the Design tab. You can select from pre-made color combinations or choose your own. Choosing colors that differ from your background can make text that stands out and is easier for older members to read.
Tip
When downloading a third-party template, make sure you pick a Word template.
If you have many elderly members, consider making a second version with larger text.
Keep your text brief so you don't overwhelm your readers.
Warning
Download templates only from websites that you trust.
Steps in this article apply to Windows 8.1 and Word 2013 and may be different for other versions of this software.