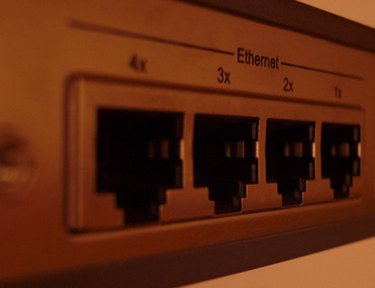 You can integrate a Wi-Fi network into your Ethernet-enabled network by simply placing a Wi-Fi-enabled wireless router into your setup. By using a wireless router in your network, you can eliminate some of the Ethernet wired "LAN" connections for all computers that have a wireless air-card installed. This cleans up the look of your network and provides a wider connection range since you can connect via Ethernet and Wi-Fi.
Step 1
Remove the Ethernet cable connected to the Ethernet port located on the back of your computer.
Step 2
Plug that cable into the WAN (Wide Area Network) port located on the back of the wireless router. This gives Internet access to the router that is then broadcast from the router as Wi-Fi.
Step 3
Plug an Ethernet cable into the LAN (Local Area Network) located on the back of your wireless router. Use port No. 1. Plug the other end of that cable into the Ethernet port located on the back of your computer. If you plan on using Wi-Fi with this computer, do not cable it to the router with an Ethernet cable.
Step 4
Locate the Wi-Fi icon in the lower right tool tray on your computer screen. Double-click on the icon to open the Wi-Fi wizard. Select, "Wi-Fi On" from the drop-down menu to activate the air-card in the computer. Select your network from the list of available networks in you area and select, "Connect." Once the signal bars on the screen turn green, the computer can then access the Ethernet modem through the Wi-Fi-enabled router.