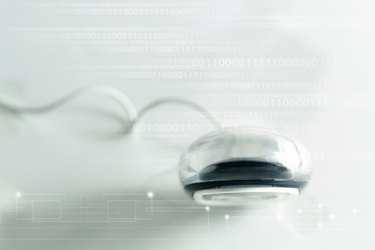 The Keynote application is a presentation tool that is a part of the iWork software suite for Apple computers. With Keynote, you can create a slideshow presentation using text, images and other features. If you want to view or edit that Keynote presentation you've made in the Microsoft Office PowerPoint application then you must save the Keynote file as a PowerPoint presentation. Converting a Keynote file to the PowerPoint format can be helpful if you need to work with the file on a computer that doesn't run the Keynote application.
Step 1
Open the Keynote presentation file that you want to open in PowerPoint on your computer.
Step 2
Click the "File" option from the top toolbar menu and then click the "Save As" button. The "Save As" dialog box will then appear.
Step 3
Click the box next to the "Save copy as" field so it's selected, and then click the "PowerPoint Presentation" file from the drop-down list.
Step 4
Select the folder on your computer where you want to save the Keynote file as a PowerPoint file. Click the "Save" button.
Step 5
Close the Keynote application and open PowerPoint. Click the "Microsoft Office" button and then click the "Open" option.
Step 6
Select the converted PowerPoint file and then click the "Open" button. The Keynote file will load into your PowerPoint application.