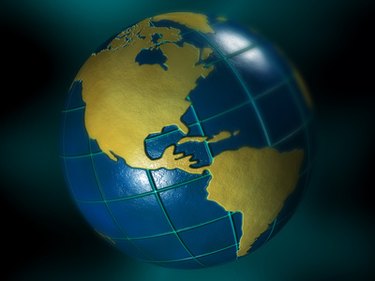 Google redefined satellite imagery for personal users with the release Google Earth 5. The newest version of Google Earth, as of September 2010, not only allows you to view images of the Earth's surface, but also explore the ocean's floor, investigate historical satellite images and track what parts of the world you have viewed. Other features included with Google Earth 5 are images from the Moon and Mars, 3D images and the ability to take a virtual flight to anywhere in the world. Google Earth 5 is an easy-to-use program that allows you to view the latest satellite pictures.
Step 1
Navigate to Google Earth (see References). Google Earth 5 can be downloaded for PC, Mac and Linux platforms.
Step 2
Click the "Agree and Download" button at the bottom of the page. This signifies that you have agreed to Google's terms of service for using Google Earth 5. There are two check boxes for downloading Google Chrome and making it your default browser above the "Agree and Download" button. Check or uncheck to your preference. The Google Earth 5 application will automatically load.
Step 3
Click on the 3D Earth to view any part of the world you wish. The buttons on the right allow you to zoom in and out, navigate in any cardinal direction and rotate the satellite image. A search tab in the upper left-hand corner of the application allows you to find specific destinations.
Step 4
Sign up for Google Earth Pro. This expanded program is designed for business applications like high resolution printing, vector imaging and area measurements.