Google Earth is a program that can be installed on your computer for free. There is also a paid version that offers more features. Google Earth was originally designed to allow users to find any location on Earth on a live camera. Google Earth is now updated so you can see live images and views. By using the live Google Earth, you can learn about Earth and brush up on your geography skills.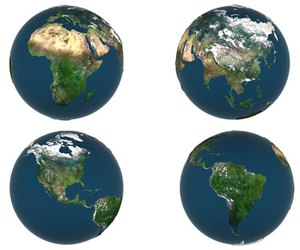 Step
Go to the Google Earth home page in the Resources section and download the version you prefer. Do this by clicking the "download" button on the right side of the page and accepting the download. Wait for the program to completely download onto your computer before running it.
Step
Enter the address and the name of the state that you want to view in Google Earth in the section that says "Fly to." Click the option that you want to view under the "Fly to" section to allow you to view that place in Google Earth.
Step
Click "Add content" in the "My Places" section when you get to areas you want to save. By adding places to your "My Places" section, you can click and view them immediately without having to search.
Step
Zoom into areas you want to see better by clicking the left button on the mouse on the area. The more times you click, the closer the screen will zoom in. Click the right button on the mouse to zoom out.
Step
Move around the map while zoomed in or out by clicking the arrows in the top corner of the screen in the direction you want to go.