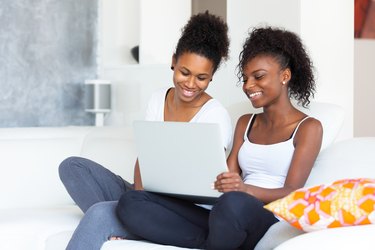 Windows Media Player was designed to help you find and play digital media files that are on CDs, DVDs, your computer, and the Internet. Playing DVDs on your computer gives you freedom to watch what you want even if all of the TVs are being used in your home. If you own a laptop you can take movies with you and play them wherever you go. With Windows Media Player and a DVD drive you will be able to play any of the DVDs in your collection on your computer.
Step 1
Insert the DVD. To play a DVD on your computer you must first have a DVD drive and compatible DVD decoder installed onto your system. Insert the DVD you would like to watch into the DVD drive.
Step 2
Start the Media Player program. Click on the "Start" button at the bottom of your desktop. Highlight the "All Programs" option and then click "Windows Media Player."
Step 3
Select the "Now Playing" tab. Once the media program is open you will see a group of tabs at the top of the screen including "Now playing," "Library," "Rip," "Burn," and "Sync." Click on the arrow at the bottom of the "Now Playing" tab. A drop down list will appear.
Step 4
Choose the movie. On the drop down list under the "Now Playing" tab you will see several selections for enhancing and changing the viewing options of the DVD you want to play. You will also see the name of the selected DVD. Click on the DVD name to select it.
Step 5
Watch the movie. The movie will start on the Media Player Screen. To change the playing options click on the "DVD" button located at the bottom the screen. There you can set the movie to full screen, set the video size, and complete several other options. Select "Root Menu" to view the special features available on the DVD.