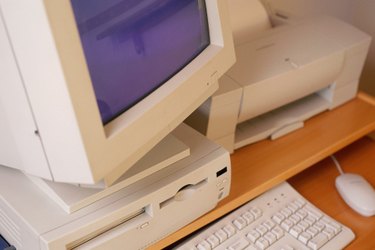 While it seems like a common thing now, not that many printers actually do print wirelessly. Kodak, however, makes several higher priced models of all-in-one printers that do work by Bluetooth. This makes it easier for multiple computers in a home or office to connect to and print from a printer than it was with the old mass of wires. Like all computer peripherals, however, Kodak wireless printers can be persnickety.
Step 1
Check to make certain your computer has a wireless card installed. If your computer does not have an installed wireless device, you can use a "dongle" in a USB port, but these do not always work properly. Sometimes, shutting down the computer will make it difficult to re-establish the wireless connection upon startup. If you have a desktop computer with PCI card slots, you can install a Wi-Fi PCI card to make your computer available for wireless connections.
Step 2
Connect a USB cable from the Kodak printer to your computer. This is a requirement for setting up wireless connections with Kodak printers. You can remove the USB cable once you have made the connection between the printer and your computer.
Step 3
Load the Kodak software disc into your computer and follow the instructions for installation of the software and drivers. This software will allow you to set up the Kodak printer for wireless connections if your computer has wireless capabilities. The software disc also includes applications for scanning images from your all-in-one printer.
Step 4
Push the "Home" button on the printer. This will bring up options on the LCD screen of the printer. Use the arrow keys to scroll down to "Wi-Fi Setup Wizard." Select the "OK" button, then select "Wireless" from the menu options and click "OK" again. The printer will take you to a list of potential networks, where you can select the correct one.
Step 5
Disconnect the USB cable once your setup is complete. Turn off the printer, wait a few minutes, then turn it back on. Give it time to start up and then you should see the Wi-Fi light appear on the printer. If it flashes, it means there may be a problem with the connection. If it is a steady light, you have connected your printer correctly.