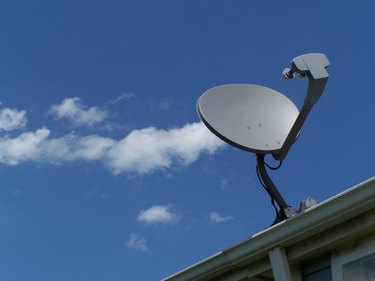 DirecTV offers high speed Internet service via satellite. The service is powered by the satellite Internet company Wild Blue. Satellite Internet service is a great option if you live in a rural area where cable or DSL Internet services are not available. DirecTV also has partnerships with select DSL and cable Internet providers including AT&T and Qwest. Through these partnerships, the services are often offered at a discounted price when bundled with DirecTV television services. The prices and services offered vary by area.
How it Works
Satellite Internet uses both a modem and a mini satellite dish. An Internet signal is sent to a gateway (a building that houses broadband transmission equipment), then it is beamed to a satellite. The satellite beams the signal to your mini dish. From there it is transferred to your modem and finally to your computer.
Availability
DirecTV satellite Internet is generally available in any location that has a clear view of the southern sky. The service is not available in Alaska, Hawaii or Puerto Rico and will not be provided to mobile vehicles such as a boat or RV.
Speed
DirecTV Internet offers three download speeds: 516 Kbps, 1 Mbps and 1.5 Mbps. The highest speed offered is around 30 times faster than dial-up Internet. Comparatively, the highest speed offered by DirecTV is only about double the lowest speed offered by AT&T DSL, and it is only .5 times faster than the lowest speed offered by Comcast cable Internet. Additionally, the lowest speed offered by Verizon FiOS is 15 Mbps, nearly 10 times faster than the highest DirecTV satellite Internet offering.
Latency
Latency is a delay in service caused by the amount of time it takes to transfer a signal to and from a satellite. Although latency is not noticeable to most Internet users, those who play real time interactive online games or use Internet telephone services will be impacted. While they may be usable, Internet telephone services are not specifically supported by DirecTV high speed Internet.
Weather Conditions
DirecTV satellite Internet is not usually affected by adverse weather conditions. Rain or snow showers may cause a small slowdown in speed but a loss of service is not typical unless there is an unusually severe storm.
System Requirements
As with any Internet service, your computer must meet certain requirements to be compatible with DirecTV high speed Internet. A PC must have a 300 MHz or faster processor, at least 128 MB of RAM, at least 100 MB of hard drive space and an Ethernet card. Additionally, it must use Windows 2000, XP, Vista or 7. A Mac must also meet the same hardware requirements and must be running OS 10.4 or higher.