The AUVIO wireless headphones enable you to listen to audio from your stereo from any room in your house without the restrictions of wires. Install the receiver to your stereo system to begin sending the audio from your equipment to the headset. The receiver is capable of covering a 150-foot range so you can pickup an audio signal from anywhere in range of the receiver.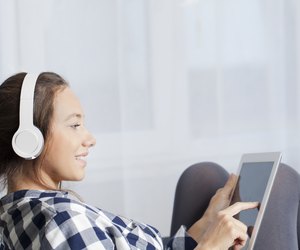 credit: eternalcreative/iStock/Getty Images
Step
Install the batteries into the compartment on the left headphone.
Step
Insert one end of the included RCA cables into the "Audio OUT" ports on your home stereo. Insert the other end of the cables into the "Audio IN" ports on the rear of the AUVIO receiver.
Step
Plug the power cable into the "DC" port on the back of the AUVIO receiver. Turn on your stereo and play a song.
Step
Press the "Power" button on the AUVIO receiver and flip the "Power" switch on the bottom of the headphones to begin sending audio from the stereo to the headphones.
Step
Turn the volume knob on the bottom of the right headphone to adjust the sound level to the headphones.