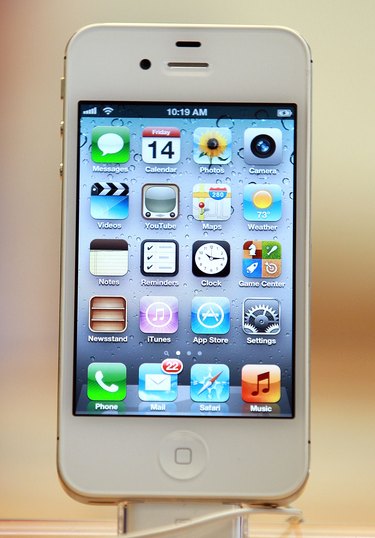 iPhone badges let you know how many new messages or notifications are waiting for you in an application. The small badge number shows up in the right corner of an application icon, but will only work if you have your settings adjusted the right way. Some applications do not offer badges at all.
Notification Settings
The most likely reason that your iPhone badges don't appear to be working relates to notification settings. If you have turned off the badge notifications for an application inadvertently, or the application's default setting is to have badges disabled, you won't receive badge alerts for that application. Check an application's badge settings by going to the "Settings" application and tapping "Notifications" at the top of the screen. After you select a particular application from the "Notifications" menu, toggle the "Badge App Icon" button to the "On" position if you want to see its badges.
Push Settings
Pushing is the process by which your iPhone searches for new information in your applications or mail accounts. When you first download an application, you will be asked whether or not you want to allow that app to use push notifications. If you select no, sometimes badges cannot come through even if you enable them in the iPhone "Settings" menu. Visit your application's settings menu to enable push, or delete the app and then resync it to the phone from your iTunes backup and allow push when asked again.
No Badges Available
Sometimes you may think an application's badges are not working, when in fact that particular application does not offer them. Visiting the iPhone's "Settings" menu and choosing "Notifications" shows you a comprehensive list of applications that have alerts and badges available. If an application is not listed there, it was not designed to use badge notifications.
Hardware Problems
Like most other issues with your iPhone, there is always the possibility that a hardware problem exists. If no applications' badges appear on your screen, despite the fact that push is enabled, consider the possibility that your phone needs repair. If you purchased your iPhone less than a year ago, Apple will troubleshoot and fix your device for free. After one year you are responsible for the cost of repairs.