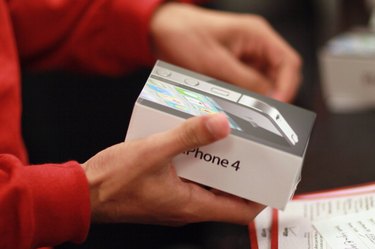 iPhones (and iPods and iPads) need to be synced with a computer in order to transfer music, video, photos and other files from the PC to the mobile phone. Apple's iTunes software handles the syncing process, which can take some time depending on the amount of data being transferred, the configuration of the iPhone, and a number of other factors. On occasion, a slow sync time indicates corrupted data or an app that is using up too much of the phone's storage space.
How A Sync Works
When iTunes detects that an iPhone is plugged into the PC, it will analyze its contents and display them under a new heading in the left-hand pane. If automatic sync is enabled, it will begin to transfer music, videos, apps and photos across to the device. If the iPhone has been set to sync manually, it will simply display the content currently on the phone – the user must click the Sync button to begin the transfer process. The sync process also includes creating a backup of the material on the mobile phone, if requested by the user.
Which Files Are Synced
iTunes enables the user to select which audio tracks, video files, applications, podcasts and photos are synced to the iPhone. This can be done through the use of smart or manual playlists, or by selecting files individually. Content is selected via the iPhone's page in iTunes – click the iPhone entry in the left-hand pane once it appears, then use the tabs at the top of the screen to navigate between the different sections.
Causes Of Long Sync Times
There are many different reasons why an iPhone can take a long time to sync. Reported problems include issues with individual apps that hold large amounts of data or that have become corrupted, issues with large groups of photos, issues with certain video files and more. The most comprehensive and commonly used solution is to wipe the iPhone and begin again from scratch. All of the content will remain in iTunes, but some application data (such as saved games) may be lost depending on the app. Alternatively, try unsyncing the apps one by one to see if you can isolate the program causing the slowdown. If unsyncing apps doesn't improve the sync times, move on to music, movies and other files. Remove each type of content from your phone, disconnect, and try the sync again.
Further Help
The Apple support forums provide a comprehensive resource for troubleshooting slow sync times. If you have more information (such as an error message or the name of a particular app) then use this to search the support forums or the Web. A wide variety of fixes have been reported which differ from user to user. Check which scenarios best fit your own situation, and which troubleshooting methods you are most comfortable with, before deciding on the course of action to take.