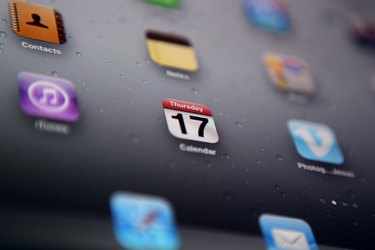 Unlike the apps on a regular computer, an iPhone app does not have a dedicated "Close" button that you can use to turn it off. Instead, use the Multitasking feature in iOS -- which facilitates switching between apps -- to find and close your apps. Additionally, turning off an app through the Multitasking feature does not stop the app from producing audible and visual alerts. Although some apps have the option to turn off alerts from their Settings menu, you can disable alerts for all apps individually through the Notification Center or simultaneously using the Do Not Disturb feature. Information in this article applies to an iPhone running iOS 7.1.2.
Close an IPhone App
The Multitasking feature saves a list of your recently used apps in a suspended state. Once an app enters the suspended state, it does not use system resources unless it has services that run in the background, such as the Weather app. Turning off an app that runs in the background can help to extend your iPhone's battery life. In addition, you can restart an unresponsive app after closing it through the Multitasking feature. To access the feature, double-click your iPhone's "Home" button to display the list of apps. Swipe your finger across the screen to the right or left to scroll through the apps. When you find the app that you want to close, swipe the app's preview screen up until it disappears.
Stop App Notifications
The Notification Center section of the Settings menu has a comprehensive list of your apps that create alerts and each app's respective notifications settings. To disable the alerts for an app, tap "Settings" on your device's Home screen, and then tap "Notification Center." Select the app that you want to change, then disable all of the app's notification options. Activating the Do Not Disturb feature completely silences all of your iPhone's audible notifications, such as Mail alerts and phone calls. Tap the "Do Not Disturb" button -- which resembles a moon -- on the Control Center to enable the feature. To open the Control Center, swipe your finger up from the bottom edge of your iPhone's screen. If you want to manage the Do Not Disturb feature's settings -- such as setting a schedule for the feature to run -- tap "Settings" on your device's Home screen, and then select "Do Not Disturb." You can also activate the feature from the Do Not Disturb screen by tapping the "Manual" switch. A moon icon appears on your iPhone's status bar after you enable the feature.