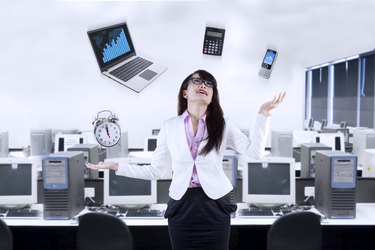 Use the End Task feature to clean up unneeded apps and processes running in Task Manager on your Windows 8 computer. However, should proceed with caution. When forcing an app to close in this way, you lose any unsaved data. If you force an important system process to end, elements of your computer may stop working properly. Only close processes you've researched to ensure they're not essential to the running of your computer.
Step 1
Press "Ctrl-Shift-Esc" to launch Task Manager. You can also open Task Manager by typing "Task" on the Start screen and then clicking "Task Manager" on the Apps list.
Step 2
Click the "More Details" button in the bottom-left corner of Task Manager to display all of the program's tabs.
Step 3
Select the application or process you want to close. Apps are listed under the Apps heading. Processes are listed under the Background Processes heading.
Step 4
Click the "End Task" button in the bottom-right corner of Task Manager to close the selected application or process.