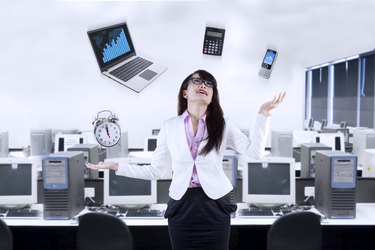 Use the End Task feature to clean up unneeded apps and processes running in Task Manager on your Windows 8 computer. However, should proceed with caution. When forcing an app to close in this way, you lose any unsaved data. If you force an important system process to end, elements of your computer may stop working properly. Only close processes you've researched to ensure they're not essential to the running of your computer.
Step 1
Press "Ctrl-Shift-Esc" to launch Task Manager. You can also open Task Manager by typing "Task" on the Start screen and then clicking "Task Manager" on the Apps list.
Step 2
Click the "More Details" button in the bottom-left corner of Task Manager to display all of the program's tabs.
Step 3
Select the application or process you want to close. Apps are listed under the Apps heading. Processes are listed under the Background Processes heading.
Step 4
Click the "End Task" button in the bottom-right corner of Task Manager to close the selected application or process.
Tip
When using Task Manager, the intensity of the yellow color in the cells next to the app or process indicates how much of your computer's resources that app or process is using. Light yellow indicates low resource usage. Dark yellow and orange indicate high usage.
Click the "Details" tab to view additional information about processes running on your PC. You can also right-click applications on the Processes tab and select "Go To Details" to view the specific name of the process that runs that application.
To end a process and all other processes associated with it, right-click the process on the Details tab and select "End Process Tree."
If you have a powerful computer, it is not necessarily a bad thing to have a large number of processes and applications running on your PC at once. Before you close an app or process, take a moment to monitor your computer's performance to determine whether the number of apps and processes running is having a negative impact on the computer as a whole. Click the "Performance" tab in Task Manager to examine CPU, Memory, Disk and Ethernet usage. On the left of the Processes tab are sections corresponding to these four elements of your computer. Click one of these sections to view a usage graph and a series of statistics related to performance.
Use the Startup tab in Task Manager to manage which programs and processes load automatically when you start your computer. Click the "Startup" tab, select the program or process you want to disable and then click "Disable" to prevent that item from loading when you start your computer. Each app or program is rated as Low, Medium or High in terms of its importance to the startup process.