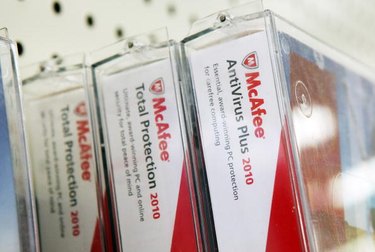 McAfee develops security software for computers, including a virus scanner, spyware scanner and firewall. However, sometimes McAfee programs can freeze up or use computer resources that you need to allot to other programs running on your computer. When this happens, you can temporarily stop the McAfee program from your computer's Task Manager. When you restart your computer, the McAfee program will launch again as normal.
Step 1
Click the "Ctrl," "Alt" and "Del" keys simultaneously on your keyboard.
Step 2
Click "Start Task Manager" from the menu. This will launch the Task Manager window.
Step 3
Navigate to the "Processes" tab to view all of the programs and processes currently running on your computer.
Step 4
Click "Image Name" to organize the processes by name. This will help you locate the "McAfee" program.
Step 5
Click the name of the McAfee process in your task manager. This may differ depending on the type of program you are using, but is normally something similar to "McShield.exe."
Step 6
Click "End Process" to stop the McAfee program.
Step 7
Click "Yes" to confirm if the Task Manager prompts you. You can close the Task Manager once this is complete.