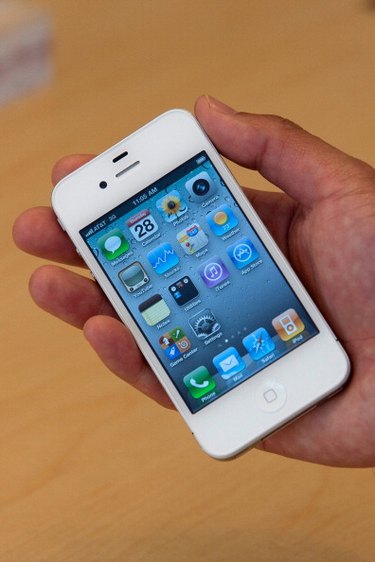 The ring is an important feature of the iPhone. It notifies you of an incoming call, and without it you may miss something important. There are several reasons your iPhone may not ring when a new call comes in, and you'll need to figure out why to fix the problem.
Ringer Turned Off
You may have inadvertently turned your ringer off and put your iPhone on vibrate. This is done by a switch located on the top left of your device. If the button is pushed back and an orange line is visible, your iPhone is on silent and all ringing and keystroke sounds are disabled. Flip the switch toward the front of the iPhone to turn the ringer back on.
Volume Down
You may not hear your iPhone ringing if the volume is turned all the way down. The volume buttons are located on the left side of your device, under the silence switch. Wake your iPhone up from sleep mode and press the top volume button to see a display of your volume level on your screen. If the volume is all the way down, press the top button until the volume reaches the level you desire.
The volume level is also accessed from the Settings screen. Tap your "Settings" button from the home screen, then tap "Sounds." Slide the button on the Ringer and Alerts volume bar to adjust the volume. Disable the volume buttons on the side of the device by turning the "Change With Buttons" option off on this same screen.
Call Forwarding
You may be forwarding your phone calls without knowing it. To check, tap the "Settings" button on your home screen, then scroll down and tap "Phone." Tap "Call Forwarding" and make sure your phone is set to "Off." If "On" is displayed, tap the button to turn it off.
Bad Signal
Your iPhone does not ring on incoming calls if there is not a strong enough signal to receive the call. Instead, the call is sent straight to voice mail. Check the bars at the top of your screen, and if few or none are displayed, move to an area with a better signal.
Reboot Needed
Your iPhone may be malfunctioning and in need of a reboot. Hold down both the "Home" button at the bottom of your iPhone and the "Wake/Sleep" button at the top of your iPhone until the screen goes black and the device powers off. The white Apple logo appears on the screen to signal the reboot has begun.