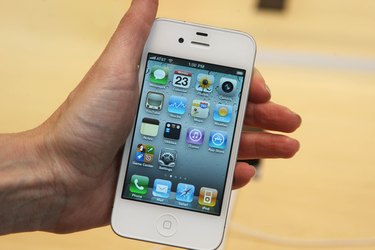 If pictures located on your computer's photo folder won't synchronize to your iPhone, there may be a problem with iTunes, your iPhone or a specific image in the folder that is incompatible for viewing on the iPhone. The iPhone supports .jpg, .tiff and .gif photo formats, and will automatically resize the photos when synchronized from iTunes. According to Apple, updating your iTunes software and iPhone's firmware can resolve many issues. So can basic synchronization troubleshooting through the iTunes software.
Step 1
Open iTunes, and click the "Help" menu at the top of the iTunes screen. Click "Check for Updates" on the sub-menu to check for the latest iTunes software on your PC. On a Mac, click the "iTunes" menu at the top of the screen, and click "Check for Updates" on the sub-menu.
Step 2
Click the "Download Now" button on the pop-up menu if new updates are available, and follow the iTunes Set-up Assistant's installation instructions to update the iTunes program.
Step 3
Plug the iPhone USB cable into the iPhone and your computer. Click the iPhone's tab in the side panel of iTunes. Click the "Check for Update" button in the "Summary" section of iTunes.
Step 4
Click "Update Now" to download and install the latest firmware to your iPhone. The firmware will automatically install once it has finished downloading in iTunes. It will display an installation indicator on the iPhone's screen.
Step 5
Un-check the box next to "Sync Photos" and click "Apply" in iTunes. Click the box next to "Sync Photos" to re-sync photos from iTunes to your iPhone, and click "Apply" to save the changes.
Step 6
Right-click the iPhone's tab and click "Eject" to disconnect the device from iTunes.