Apple doesn't provide a tool to calibrate the iPad touch screen, but when your iPad screen misbehaves, troubleshooting fixes might get the screen working correctly. The screen may not pick up touch gestures properly, or it may respond slowly or erratically. Run basic checks on the screen before restarting and resetting the device. If that doesn't fix the screen's calibration, check for app and memory problems.
Check Your Screen Protector
If the iPad's screen responds oddly immediately after you apply a new screen protector, the protector may be making parts of the screen unresponsive or slow to respond. Remove the protector and see if this fixes the problem. Also, clean the screen with a nonabrasive, lint-free cloth. Use a slightly damp cloth if stubborn marks are on the screen, but do not use a wet cloth or cleaning products, which can damage the iPad.
Restart and Reset the iPad
If a software glitch is making the iPad's screen respond oddly to gestures, you may be able to fix the problem by shutting down the device. Hold down the Sleep/Wake button until you see the Slide to Power Off message. Swipe the slider and wait for the iPad to shut down. Press the Sleep/Wake button to restart the device.
If restarting makes no difference, reset the iPad. Hold down the Sleep/Wake and Home buttons together. When you see the Apple logo, release the buttons and wait for the iPad to reset and start up again.
Troubleshoot Apps
Check if the problem only occurs when you use one specific app or if it happens on other apps. If the screen works correctly when you use other apps, the first app is likely at fault.
If you used the app recently, it is still running in the background. Force it to close and reopen it to see if this fixes the problem.
Step 1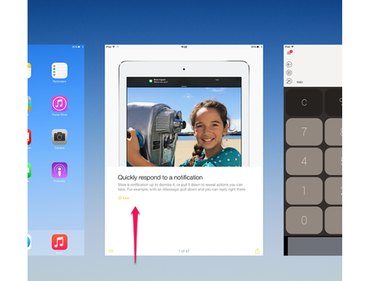 Double-tap the Home button to open the list of recently closed apps. Go to the app's picture and swipe it up to close the app.
Step 2
Press the Home button to exit the list. Reopen the app by tapping it on the Home screen.
Check Storage Capacity
The iPad's screen may respond slowly or erratically if the device's memory is almost full, check the available space.
Step 1
Open Settings and tap General. Tap Usage.
Step 2
Look at the Used and Available numbers to see how much storage space you're using and how much is free. If the phone is close to capacity, delete some of the iPad's content.
Contact Apple for Support
If you can't fix the screen's calibration, the iPad may have a screen or hardware fault. Contact Apple Support for advice.