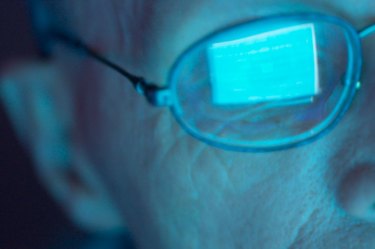 Windows 7 users can enlarge the text display on the monitor screen for better readability. The Windows Control Panel has "Display" options that include three sizes: "Smaller – 100%" (default), "Medium – 125%" and "Larger – 150%." The medium and larger settings expand the document's area and reduce the surrounding gray background. The Desktop icons also appear larger. These display settings do not affect a file's font size on a printed document.
Step 1
Click the Windows "Start" button or press the "Start" key with the Windows logo.
Step 2
Click the "Control Panel" in the right pane. A list of computer settings appears.
Step 3
Click "Display." This button displays a computer screen at an angle. A dialog window entitled "Make it easier to read what's on your screen" appears.
Step 4
Click the option for "Medium – 125%" or "Larger – 150%."
Step 5
Click "Apply." A window's message asks you to log off to apply these changes.
Step 6
Click "Log off now" to save the display change.
Step 7
Log on to view the enlarged text.