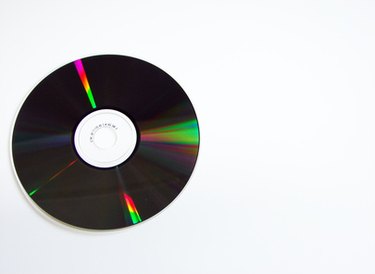 Upgrading your computer or installing a new operating system can sometimes wipe the correct DVD drivers and stop your PC from reading and playing DVDs. There may also be issues with the media player software that you use to play the DVD, or you may have selected an incorrect region setting for the player.
Step 1
Uninstall and reinstall the DVD drive from your computer. To uninstall the device, launch the computer's Device Manager from the Control Panel. Click the "+" by "DVD/CD-ROM drives" to display the drives, right-click the DVD drive and click uninstall. Once the message comes up that says the drive has been uninstalled successfully from the system, restart the computer. As the computer boots up, the DVD drive will automatically reinstall with the proper drivers.
Step 2
Add the proper drivers for your DVD drive without uninstalling the drive first. To add the drivers, launch the computer's Registry Editor by searching for "regedit" with the Windows search charm. Click the folders "HKEY_LOCAL_MACHINE," "SYSTEM," "CurrentControlSet," "Control," "Class" and then right-click "LowerFilters." Choose "Delete," "UpperFilters" and then select "Delete." Restart the computer to remove the registry keys. The drivers for the DVD player will automatically install when the computer reboots.
Step 3
Download the most recent version of the DVD player program you normally use to watch DVDs. Players such as the VideoLan VLC Player have regular upgrades, and if the DVD won't play in the version you have installed on your system, an upgrade may add the codecs needed for the player to read and play the disk.
Step 4
Get the DVD player plugin for your media player. Some computer-based media players, such as Windows Media Player, have the capability to play DVDs but require an additional component to be able to read disks. To play DVDs in Media Player, download the DVD Decoder plugin and install it to your system.
Step 5
Change the region on your DVD drives. DVD disks contain region codes to prevent unauthorized playback. If the region on your player got changed by accident, you may not be able to play any disks with the region coding for your location. To change the region on most DVD drives, log in to your computer as an administrator, access the drive by going to the Device Manager and selecting the DVD drive. Select "Properties" and change the region code on the "DVD Region" tab.
Warning
Serious problems can occur if you modify the registry incorrectly. Always back up the computer's registry in the Registry Editor screen before making any changes.