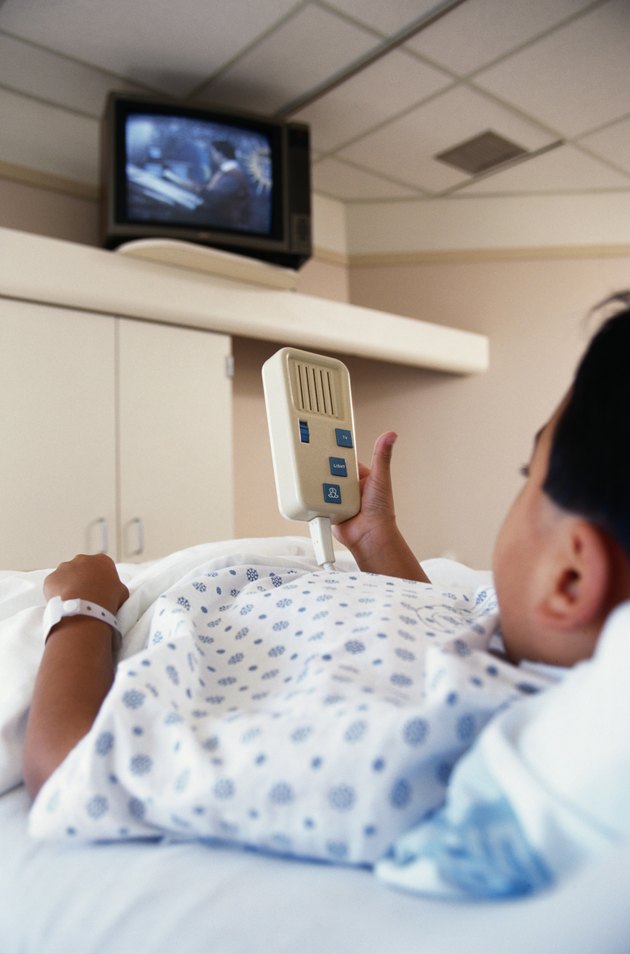 HCI stands for Healthcare Information. The company has been manufacturing TVs for hospitals and the healthcare industry in general since the 1970s. The TVs allow patients to entertain themselves, pass the time and stay connected to current events during hospital stays. The TVs come in a variety of different shapes and sizes, from personal bedside TVs to larger TVs mounted on walls and ceilings. However, problems can arise from various HCI TVs.
Standard TV Problems
HCI TVs are susceptible to many of the same issues found in regular TVs in other homes and businesses. For example, depending on the type of TV, HCI TV screens can lose color and clarity over time, or the light bulb can burn out or crack, causing a dim picture, or no picture at all. Wires may become loose or disconnected inside the TV, resulting in poor visual or audio quality.
Remote Not Working
An important aspect of an HCI TV is the remote. Many hospital patients have limited or no mobility, so they need to use the remote to change the channel or volume level on the TV. If the remote is not working, the TV viewing experience suffers tremendously. Check that the remote has proper batteries or is plugged in correctly if it is not working. Some remotes require programming to work with certain TVs, so if the remote is programmed incorrectly, it will not work properly. To program a remote, press the channel up button, then the volume up button to set the IR bank on TV to bank 1. Then, with the TV on, press and hold the power button on the remote for 10 seconds.
Speakers
HCI TVs also have various speaker settings. These include TV speakers, wall speakers and bed or pillow speakers. To change speaker modes, press the volume up and volume down buttons at the same time to select different speaker options. If no sound is coming out, ensure the TV is not muted and turn the volume higher.
Warranty
HCI TVs come with a two year warranty. This means that is any part of the TV malfunctions within two years of purchasing the product, HCI will repair or replace it at no cost. This warranty does not include damage to the TV that is no fault of HCI's. For example, if you drop the TV, or damage it while installing it, the warranty does not apply. Call HCI technical support at 800-783-8105 to discuss repair options for a damaged TV.