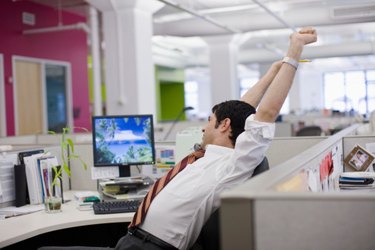 The Windows desktop gets cluttered with icons and other user-created objects over time. After you install new programs, you can usually choose to place a convenient icon on the desktop, although with some programs this action is automatic. Developers of the Windows operating system and third-party software may inadvertently clutter your desktop. If you would like organized and uncomplicated access to your programs, you can place preferred icons at the bottom of the screen.
Step 1
Right-click directly on the icon from the Windows desktop.
Step 2
Select "Pin To Taskbar" from the menu.
Step 3
Find the icon positioned to the right of center on the taskbar. Double-click and drag the icon to the left of existing icons if you want it to appear closer to the Start menu side of the taskbar.
Tip
You can also change how notification icons appear in the System Tray on the right side of the taskbar. This is the same area where Windows displays the system time.