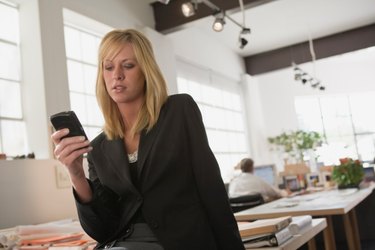 With phones becoming increasingly complicated and running ever more complex software, the potential for problems increases. It's now becoming common for phones and other similar smart devices to suffer from the same lock-ups that computer users are used to dealing with, and the iPhone is no exception. Resetting a locked iPhone is an easy process, and you can carry out a full restore back to factory condition using Apple's iTunes software.
Step 1
Press the "Wake/Sleep" button at the top of the iPhone, and hold until a red slider appears. Press the "Home" button, and hold for at least six seconds until the nonresponding application shuts down.
Step 2
Switch the iPhone off, and then switch it on again. Press and hold the "Wake/Sleep" button down until the red slider appears, and then drag the slider. Hold the "Wake/Sleep" button down again until the apple logo appears onscreen.
Step 3
Reset the iPhone by holding down the "Wake/Sleep" and "Home" buttons together for at least 10 seconds, until the apple logo displays on the screen.
Step 4
Reset the iPhone's settings by selecting "Reset" from the "General" menu, and then selecting "Reset all settings." You will reset all of the custom preferences and settings, but you will not delete content such as music and videos. You can erase the content by selecting "Reset" from the "General" menu and selecting "Erase all content and settings." This will erase all settings and media from the iPhone.
Step 5
Restore your iPhone back to factory condition by connecting the iPhone to iTunes. Select the iPhone in the iTunes sidebar and then select "Restore." This will wipe all content and settings from the phone and will reinstall the factory-loaded software.