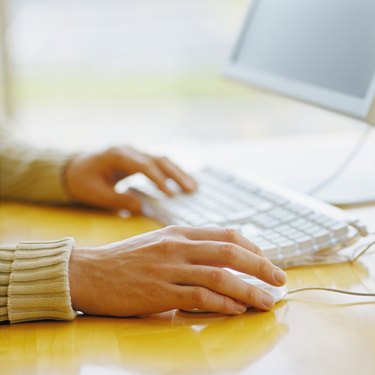 Perhaps you built your own monitor, and the screen is displaying at the wrong angle now that it's all set up. Maybe you installed a new graphics card or driver, and it appears something has gone horribly wrong. It's possible you're just being creative, and think it would be cool to lay your monitor on its side and still be able to use the computer. Or, most likely, your cat or kids pressed some mysterious key combination which rotated your screen for you, and you can't get it back. Don't worry; getting your screen to rotate 90 degrees is easier than you think.
Step 1
Identify in which direction your screen needs to be rotated. There are four shortcut key combinations, and each will rotate your screen so that the top of the screen is at the top, bottom, left or right side of your monitor; you need to know which combination to choose. Say you are you trying to correct a mistake, and put the top of your screen back where it belongs–at the top of the monitor. Or you are trying to rotate your screen because you are using your monitor differently than most people do, and want the top of the screen to be at the left or right side of the monitor, or even upside-down.
Step 2
Hold down "Ctrl + Alt" and the "up" arrow key if you want to return the top of your screen to the top of the monitor. "Ctrl + Alt + Left Arrow" will rotate your screen so that the top of the display is on the left side of your monitor, and using the Right Arrow will put it at the right side. The Down Arrow will turn your screen upside down if your monitor is right side up. Make sure you hold all three keys down long enough; the screen may go back for a moment as the screen is rotated.
Step 3
Open your "Control Panel" if nothing is happening, and see if there is an option to "Enable Screen Rotation" under your Display options. If not, you may not be able to rotate your screen. This is especially common with older computers, as they have older graphics cards or integrated video If you have a newer computer, you may need to have the graphics drivers updated in order for the shortcut to work.