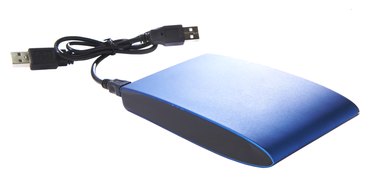 Portable hard drives sit on the outside of the main computer in its own enclosure. The main purpose of portable hard drives is for data storage. Rather than running on its own, the external hard drive connects to the computer or laptop via a high-speed interface cable and acts as an additional hard drive.
Online Safety
Because of the prevalence of Internet viruses, hackers and worms, many users are wary of relying solely on their internal hard drive. Portable hard drives allow users to back up or store their files away from the main internal hard drive, secure from compromise by online or offline activities. When online, users can even choose to leave the external drive turned off.
Additional Storage
Portable hard drives can provide much more space, freeing up room on the main computing system. With capacities of 80 GB to over 1 terabyte, external hard drives allow an even greater storage space for digital media such as photos, music and home movies. You can store entire virtual workstations on portable hard drives.
Portability
Often no larger than the size of a child's shoebox, all external hard drives are portable to a certain extent. Portable hard drives allow users to secure data in a safe place, share it with other users or transfer files to another computer with very simple plug-and-play interface.
Plug-And-Play
Portable hard drives operate on a plug-and-play basis. Many portable hard drives come with both USB and Firewire, which allows for universal connectivity for both PC and Mac. Any system with this capability will recognize the portable hard drive automatically and assign it a letter to designate it. Be sure to check for this capability.
Backing Up Important Data
A portable hard drive allows users to back up all their files. If a computer needs to have its hard drive reformatted, a portable hard drive has much more efficient capability for backing up files as opposed to lower capacity DVDs or CD-Rs. Many of these drives come with automatic synchronizing and backup software as well. For example, Western Digital has a feature called WD Sync, which allows the user the option of making sure he has the most current version of data from a drive.
Network Security
If multiple users use a computer system, another benefit to having an external hard drive is that the user can protect important files from inadvertent file corruption. For example, using a portable hard drive can keep financial information and other sensitive documents secure. When needed, users can plug in the external drive and have all data and programs available. When finished, the user can simply unplug the drive and take it with her.
Additional Security Features
Another advantage of portable hard drives is that some portable hard drives provide additional safety features such as integrated fingerprint reader. This is especially useful for sensitive documents. Users can protect their files from unauthorized users from using the hard drive even if the unauthorized user moves the drive to a PC that does not have the utility software installed. In this way, even if the hard drive is lost, users can not access those files.