WD SmartWare is a software program you use to manage data backups from your computer to an external hard drive. Its creator, Western Digital, bundles the program on some of its drives. Some of the company's other products, including its cloud storage solutions, come with an advanced version, WD SmartWare Pro. You can upgrade to SmartWare Pro or buy it as a stand-alone software package, even if you don't have a Western Digital drive.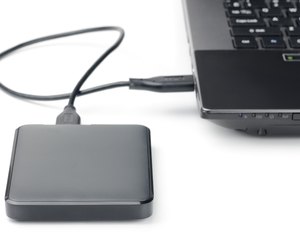 credit: Coprid/iStock/Getty Images
Primary WD SmartWare Features
WD SmartWare works like a control center for an external Western Digital drive, controlling how and when the drive backs up. You can set it to run a backup on a continuous basis, allowing real-time updating of files. Western Digital added the alternative of scheduled backups from version 2.0 of the software. The system allows you to back up on a file, folder or category basis, depending on your preference. If you have a problem with your PC and lose or accidentally delete files, it can retrieve and restore all or some of them, as long as you backed them up.
Additional WD SmartWare Pro Features
WD SmartWare Pro has the same basic features as WD SmartWare but comes with extra benefits. You can buy the software as a stand-alone package and use it to manage your backups on Western Digital drives that don't have WD SmartWare installed on them. It also works with other brands of external USB drives and adds the ability to back up to the cloud, although you have to set up a Dropbox account to do this.
Accessing WD SmartWare and SmartWare Pro
Some Western Digital external drives come with WD SmartWare loaded onto them. The software won't automatically load onto your system when you set up the drive -- you can choose to install it or not. If your drive is running WD SmartWare and you want to switch to the Pro version, you can usually upgrade from the program's home screen. If you want to use WD SmartWare Pro on another drive or to back up to the cloud, you need to buy and download a copy of the software.
WD SmartWare Costs
You don't pay for WD SmartWare because it is part of a hard drive's package. To upgrade to WD SmartWare Pro, you pay a license fee for the download. At the date of publication, this fee is $19.95 for a license to use the software on up to three computers. You can also buy a premium license that is valid for up to 10 computers for $39.95. Before you upgrade or buy the software, you can try a free 30-day trial.